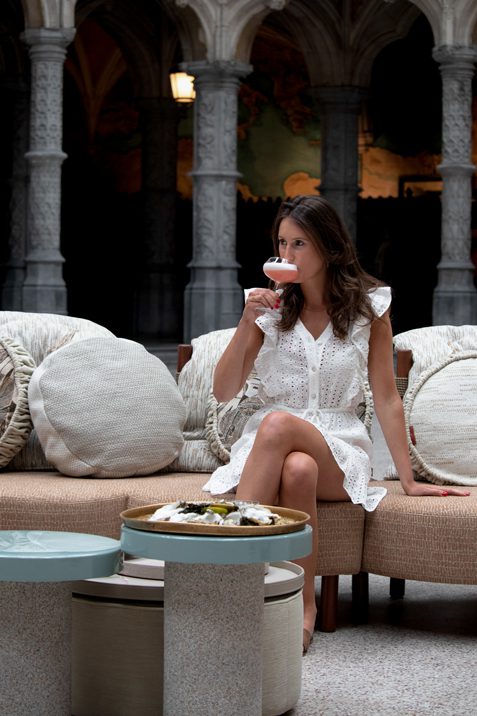 During the design process, we combined a luxury seating arrangement that can be used in & outdoor settings. There are a total of nine different elements that can be formed in a harmonious whole. Every piece serves a unique purpose allowing it to have a variety of configurations. We have designed matching cushions with artistic patterns and fringes. In terms of the design, we decisively chose round and organic shapes that effortlessly interconnect. Those who are familiar with the work of Evolution21 immediately notice that the already existing Bubble Sofa served as an essential source of inspiration for this first Sunroom furniture collection piece.
The Island is characterized by a natural and cozy look. The inviting-looking design is, however, much more than that. The Island design is playful, comfortable, qualitative, and artistic. Logically, the result is a perfect harmony of these four keywords. By intensively looking for an answer to the question of how to combine different pieces with the greatest liberty, we strive to develop an outdoor collection that brings together comfort and playfulness in the best possible way. This high degree of comfort is not only the result of the freedom with which you can set up the pieces, but also of the light cushions that can be placed over the backrests and effortlessly which will adopt the shape of the body. In this way, you do not only have the luxury to arrange the pieces to your liking, but they also come with great convenience and comfort.
The flexibility of the Island is one of the biggest perks of the collections, together with the fact that everything is manufactured in Belgium and the striking softness that the degree of quality and luxury brings outside. This flexibility extends to three additional elements with slightly longer legs, designed with our Lagoon table in mind. Sliding underneath its marbled counter, its elevated seating position provides a comfortable upright dining experience, creating an inviting and intimate atmosphere. Made from high-quality Meranti wood, these pieces are built to last.